Confession: I'm not a gambler. Frankly, it's the equivalent of flushing money down the toliet to me. I'd much rather buy a handbag if I'm looking for a cheap thrill. Plus I find that where there's gambling there's the smell of desperation in the air. Invariably makes me sad about the human condition. Yes, I'm that Debbie Downer in Las Vegas.
At one point, I struck up a conversation with Mr. Saint's dear childhood friend, Sassy Lawyer. Mr. Diabolina had enjoyed meeting her last May at Mr. Saint's father's wake. And after peeping her big sunnies, sassy head scarf and zipper Uggs today, I sensed a kindred spirit. So when we were left alone sucking down cocktails to keep warm, I mentioned Mr. D's first trial - figured nothing like a legal victory to get a smartie lawyer talking. Never imagined the LOVELY exchange that would come next.
The two of us proceeded to talk fashion and professional passion and female friendships and writing and marriage for what seemed like an hour. Like old friends. While both of our misters looked on anxiously. Adore. Hope we can stay in touch - keep our girl crushing going strong ;)
Banana Republic turtleneck
BCBG leather jacket
Forever 21 black jeans
BCBG boots
Marc Jacobs bag and zipper earrings
Thrifted scarf
Forever 21 sunglasses
It didn't even dawn on me to get my Kentucky Derby on today. F.
Probably would have looked pretty ridiculous anyway in the plebian stands sucking down Bloody Mary's and placing $2 bets if I wore a fantabulous hat like this one on a horse's owner. Sigh.
Newsflash: Boots were THE footwear of choice for hot chicks today. They were everywhere at the track. None cuter than Daisy Duke's Dolce Vita ones.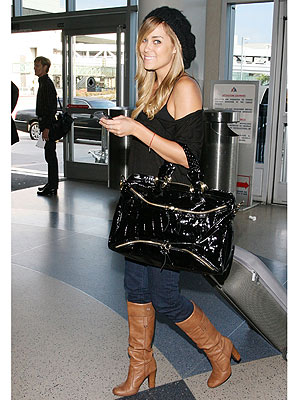 Tres LC.

Not to be outdone, Mr. Saint wore his new shoes. Got alot of heat for how glaringly unblemished they were.
Danny B also got lots of attention. For making the biggest peanut mess in the shortest amount of time. F.

Finally let's talk about my butter-soft-perfectly-fitting leather jacket. Reminds me of this Elizabeth and James one but at a third of the price. LOVE!
Also feels slightly Alexander Wang with the zippers at the wrists.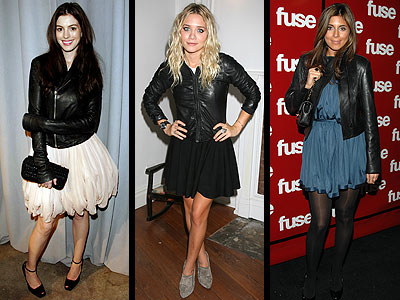 Can't wait to wear it to toughen up a frou-frou dress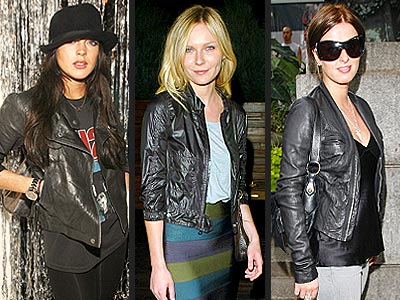 Or just to look tough.
So many leather looks to try out.
I fear I am going to start being referred to as The Fonz :)