The Scene

First Three Muskateer brunch of 2009. Adore!
Followed by a final round of Christmas gift shopping. My mom (in her Stella McCartney sweater) scores a DVD player as well as Elvis and Audrey Hepburn classics.
Mr. Diabolina (in his Lacoste sweater) gets an office supply shopping spree. Ugh. Can you beeeeeelieve these are the things he asks for???
Before Mr. D can groan "No more shopping," my mom sweet talks him into heading to Barney's. She's been dying to get him a new jacket since he LOST a beautiful Theory one. Ugh. Don't even get me started on
that
story.
Miraculously he agrees. Unfortunately, none of the jackets we pick out for him at Barney's or Saks fit. And the ones he picks out...well...they are just unfortunate.
My mom and I leave our beloved Beverly Hills department stores with an unfamiliar feeling: depression. But I guess, there's a glimmer of hope. After all, he picked out these jeans all by his bad self a few weeks ago. Maybe he'll surprise us with a similar successful jacket spree. The Diabolina girls can dream...
End the afternoon with Mr. D setting up my mom's DVD player and the three of us dining on tamales with Breakfast at Tiffany's in the background. Could we BE any cuter?

Mr. Diabolina and I then head out to catch Revolutionary Road. Ugh. Now, I, of all people, can intimately relate to questioning the status quo. I wrote the book on resisting marriage, 2.1 kids, a house in the suburbs and a job you can't stand. I am well acquainted with that fear of not taking a chance, the chance that could lead to real fulfillment. I actually live in fear of not quite realizing my potential.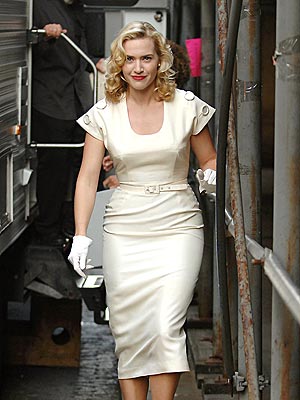 And yet, this movie was just meh for me. Too Madame Bovary meets Little Children for my taste. And some of those initial scenes? Painful. Like bad dinner theater: self conscious and fake. Probably had something to do with Kate being directed by her husband in a tale of intense marital woe. Talk about AWK-ward. And that Leo was miscast and too cartoony.
But what do I know. I just took a film criticism class. From Kenny Turan. And got an A ;)

The Outfit
Phillip Lim dress
BCBG Max Azaria jacket
The Accessories
Forever 21 scarf
Chanel purse
American Apparel tights
Stuart Weitzman booties
Raybans
Marc by Marc Jacobs zipper earrings
The Grade
B
The Commentary
Wasn't feeling very sassy today despite the beautiful sunshine. The rising anxiety about having to go back to work on Monday had something to with it.

Knew I wanted to wear my leather jacket for my mom.
So instead I started with the LBD
Layered on the jacket
Added purple tights
Followed by the booties
And the wayfarers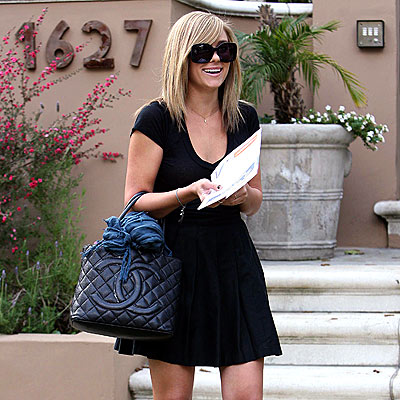 With the Chanel bag
And topped things off with a leopard scarf.
Not bad.
But not spectacular. Like Revolutionary Road.
Maybe the key to a flimsy dress with a leather jacket is bare legs?
Me thinks she is the next big MTV thing. Lo crossed with Heidi. What a combo, right? I'd advise her to forgo coming out with her own fashion line (soooo 2008!) Instead, she should launch her own line of hair care products.
My Rapunzel of a momma doesn't need them but I sure do.